Lizards and Fish from Newgrounds!
Here's a little thing I've been making through the year: not too long ago I began making custom "token cards" designs for creatures  (which are mostly used as a complement on Magic: The Gathering) for the Cardamajigs store, and now a second series of ANIMATED cards are out!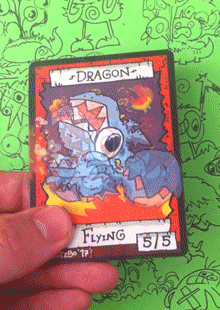 I wasn't really aware that lenticular printing could allow so many frames of animation (actually a total of 8 in this case!) so it's been great to make a few things with this technology, it's pretty much some kind of GIF you can have in your hand.
If you're interested, either for your Magic battles or just to collect animation in physical form, head to the store!