Frogs and Flies from Newgrounds!
Time to kick off the year with a new animation I made for Pixel Day!
A little backstory/process!
Other than my short film 'Dogs of the Planet' (more on that below!) and a few loops, I didn't get as much time to make animation during 2019, BUT, at some point @Aap invited me to make a short duck-segment for his brain-twisting pixel animation Indian Runner duck! (go watch it!).
I made this part: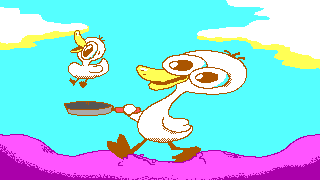 I hadn't done much in pixel art before other than a few small things, so it took me quiiite a while to get it to work. As space is so limited you have to be aware of the placing and color of every single pixel. But despite the difficulties, I think it ended up working after all. There is a "crispy" and vibrant quality of working in such a low resolution which I found appealing.
SO, after that I got inspired to try my hand at something more 'elaborated' on pixel art, and Newgrounds' Pixel Day seemed like the right excuse! Also there was the Loopdeloop challenge coming up, I usually like to make loops as a way to experiment with different things in animation, so, Why not do both things in one?
The inspirational theme for Loopdeloop was 'WHOOPS', so after a weird brainstorming I ended up with this frog which keeps being misleaded to press an unwanted button, here is the very first animatic:
Warning: it's SUUUPER rough, but I like to share it in it's most crude version as that's how the process normally starts.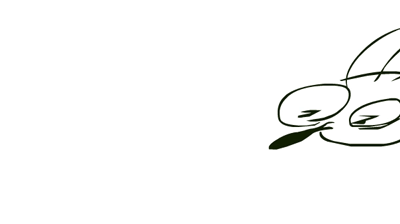 ---
So, with that defined I asked my composer pal Moralo González (who I've collaborated with in a good bunch of stuff by now such as the game Dinomelt ) if he was up for the mission of making a tune for this weird pixelated animation. While he had done chiptune esque-music, I wanted to see if he could make something both alien sounding for this weird ambience, and also more pure in terms of chiptune sound.
All of this resulting in the sick jam you hear in the final loop.
---
Meanwhile I finally began animating, starting with a resolution of 160x90 as it seemed to make the pixels stand out while not being so restrictive to work with, first starting with only linework and later on coloring. On this last aspect I got a bit greedy with the coloring style, trying some dithering effects (pretty much making multi-color pixel patterns. to simulate light-shadow effects) This is one thing I thought about recalling old Pokémon gameboy sprites such as this precious thing: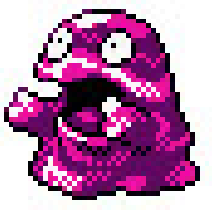 This took a lot more than anticipated throughout the animation being a more manual process (with a few shortcuts in some cases but in many parts done pixel-by-pixel) with the frog character having 20-30 unique frames.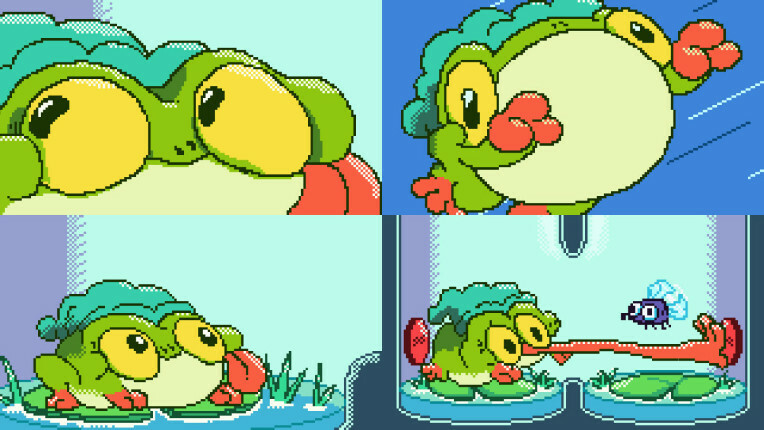 There's probably a big basket of pixel art tricks I've yet to explore in terms of coloring, but for now I'm happy with how it ended up!
And that is how this poor frog looking for elusive nutrients came to be!
---
'Dogs of the Planet' coming to Newgrounds!
OOoohhh that's right!, I have another thing to announce!
This is the short film I finished last year, (here's a post I made back then) it's about time to finally web-release it! I have the impression it may be more of an internet short, so we'll see how it goes! I'm planning to first launch right here on Newgrounds by the end of January!